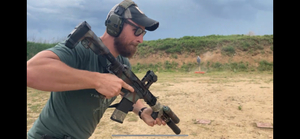 Carbine Applications
Regular price $225.00 Sale
Carbine Applications (formerly Carbine 2) is the next step after taking Carbine B.A.S.E. We build upon the lessons learned and add one hand only and support side techniques and manipulations. This class is 9 hours and is not a NRA course of instruction.
 You will need a minimum of 500 rounds for your carbine. You will need to bring safety glasses and hearing protection. Electronic hearing protection is preferred so you can hear range commands. This course will be held entirely on an outdoor range, rain or shine, so please bring weather appropriate gear.
 PRE-REQUISITE: Finest Hour LLC Carbine B.A.S.E or equivalent from reputable trainer.
(Please bring a ZEROED carbine, we will confirm zeros in the morning but will not have any time to Zero it.)
 RANGE DRILLS INCLUDE:
- One handed shooting fundamentals / accuracy drills
- Different shooting positions
- Single handed and support side reloads
- Single handed and support side malfunction clearing
- Multiple targets and transitions
- Shooting while moving
 WHAT TO BRING:
A ZEROED AR style carbine in 223/556, 308, 300blk
Sling for your rifle
3 Magazines (5 recommended)
Holster for 1-2 magazines
500 rounds of ammunition
Clean kit and lubricant
Safety glasses and hearing protection
IFAK/Individual First Aid Kit is highly recommended
Seasonally appropriate clothing and rain gear
Sunscreen and insect repellent
(OPTIONAL) If time permits at the end of class we will work on rifle to pistol transitions. Feel free to bring your pistol with holster and 100 rounds of ammo.
 Students must be a current United States citizen and meets one of the three following:
- Possess a current CPL license
- Is an active duty Military or active full time Law Enforcement Officer
- The student meets the criteria for CPL in the State of Michigan and provides a letter of recommendation from their local Law Enforcement Agency attesting the student's good standing as a law abiding citizen.
 Course Tuition: $225.00
(Lunch is not included)
Range Fee: $20/cash Not Included