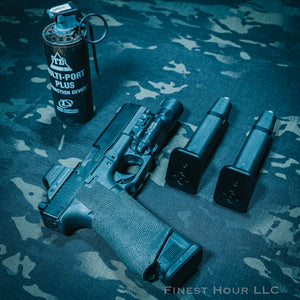 Hybrid/Indoor HANDGUN B.A.S.E
Regular price $200.00 Sale
Hybrid Handgun B.A.S.E (formerly Handgun1) is the next step after taking a CPL course. It will introduce students to pistol shooting fundamentals, body mechanics, proper reloading techniques. This class is 8 hours and is not an NRA course of instruction.

Class is held indoor at a non-live fire training facility utilizing airsoft pistols where you can stay warm and skip having to buy real ammo.  You will only need to bring safety glasses and a sturdy belt. Everything else is provided including pistol, mags and airsoft ammo/gas.


RANGE DRILLS INCLUDE:
- Shooting fundamentals / Accuracy Drills
- Body Mechanics of Shooting
- Speed / Tactical Reloads
- Proper draw stroke
- Different shooting positions
- Shooting while moving


WHAT TO BRING:
-Safety Glasses
-Good sturdy belt


Students must be a current United States citizen and meets one of the three following:
- Possess a current CPL license
- Is active duty Military or active full time Law Enforcement Officer
- The student meets the criteria for CPL in the State of Michigan and provides a letter of recommendation from their local Law Enforcement Agency attesting the student's good standing as a law-abiding citizen.

Course Tuition: $200.00
(Lunch is not included)
Range Fee: Included
Location is date specific.