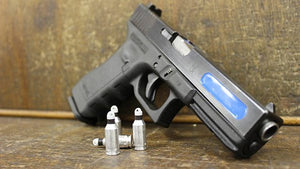 Home Defense / Shoothouse
Regular price $200.00 Sale
Home Defense / Shoothouse course is an 8-hour course focusing on all details related to defending your home. Class will consist of classroom/lecture and hands-on in a "non-lethal" indoor shoot-house. Class will also involve "force on force" or person on person scenarios.
The course is designed for anyone that owns a firearm for the purpose of defending their home and family and therefore we welcome all levels of shooting experience. 

Course information covered:

-General home security guidelines

-Fortifying your house
-Developing home emergency plans
-Defending your home in an emergency
-Basic room clearing principals and movement using UTM guns and ammunition 
What to bring:

-!!!PLEASE DO NOT BRING ANY LIVE FIREARMS OR AMMO INTO THE CLASSROOM, YOU WILL BE SEARCHED!!!
-All non-lethal firearms and ammunition will be provided
-Note pad and pen
-Safety glasses (hearing protection is not required)
-Extra layer or bulky outer garment if you wish to participate in "force on force" scenarios 
Students must be a current United States citizen and meets one of the three following:
- Posses a current CPL license
- Is active duty Military or active full time Law Enforcement Officer
- The student meets the criteria for CPL in the State of Michigan and provides a letter of recommendation from their local Law Enforcement Agency attesting the student's good standing as a law abiding citizen.

Course Tuition: $200.00
(Lunch is not included)
Range Fee: Not Included