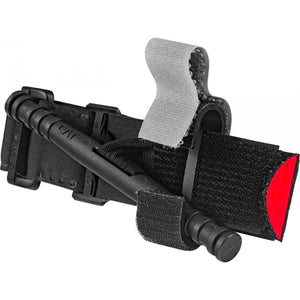 Combat Application Tourniquet (CAT)
Regular price $29.99 Sale
Official Tourniquet of the U.S. Army
Proven to be 100% effective in occluding blood flow in both upper & lower extremities by the U.S. Army's Institute of Surgical Research
NEW Single Routing Buckle for faster application, decreased blood loss, effective slack removal, fewer windlass turns, and simplified training with single protocol application standards
Includes reinforced windlass, stabilization plate, windlass clip and writeable windlass security strap
Featuring NAR's signature Red Tip Technology® elliptical tab providing added visual clues during application
PRODUCT ENHANCEMENTS:
NEW Single Routing Buckle for faster application, decreased blood loss, effective slack removal, fewer windlass turns, and simplified training with single protocol application standards
Reinforced windlass rod with increased diameter for enhanced strength and aggressive ribbing for improved grip
Bilateral windlass clip for rapid windlass lock and bilateral buttress for added strength
Enhanced windlass strap changed to tactical gray and sonic welded to clip for constant contact providing safe windlass security and a place to document the application time
Reinforced stabilization plate with beveled contact bar
Signature red elliptical tip (Red Tip Technology®) provides visual cue during application
Patented free-moving internal band for true evenly distributed circumferential pressure
Packaged: L 6.5 in. x W 2.4 in. x D 1.5 in.
Open Length: 37.5 in.
Weight: 2.7 oz